Mud Sweat and Tears
mudsweatandtears.ca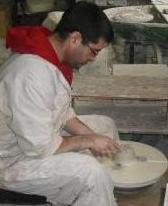 Bruce was introduced to clay when Laura rented a wheel. Although he had never seen anyone throwing, he sat down and made a beautiful bowl.
Six months later he gave up his job as a Purchasing Manager for two Particle Board factories, in New Zealand, to become a full time potter.He makes a full range of functional domestic ware.
Every winter he throws 4000-5000 Honey Pots for an annual contract.
Bruce has a passion for crystalline glazed pots and is continuosly working to perfect his glazes.  He is experimenting with post firing reduction.
Bruce has taught pottery classes and has given many workshops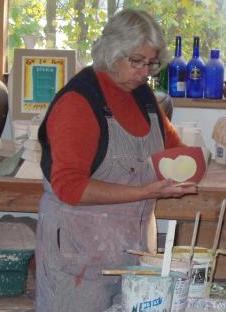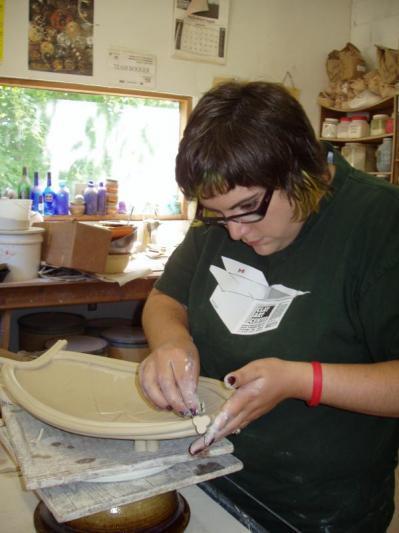 Marie has always enjoyed playing with clay. She helped with honey pots as a child and made small bowls which she sold at craft fairs. In high school she sold enough to finance a trip to Japan.
In 2000 she was diagnosed with Multiple Sclerosis and her dream of becoming a potter was dashed.
When she is able, she spends time in the studio helping Laura with glazing and decorating, and she throws small bowls as therapy for her MS.
Marie lives in Blind Bay with her husband Paul, and dog Rutley
In the winter 2008-2009 when Laura had to have surgery, Grant offered to help with the annual Honey Pot Contract. He had helped when he was in school, (one year he sold enough napkin rings to buy a VIC 20), so he knew what the job involved. He helped with the turning, loading the bisque kiln, waxing, glazing and cleaning.
When the honey pots were finished he thought he would like to give throwing a try.
Just like his father years before, he sat at the wheel and made a beautiful bowl.
Grant is very interested in glazes and their chemical composition.
He is also fascinated by crystalline glazes and is working closely with Bruce, producing crystalline glazed pottery and experimenting with post reduction firing.
Grant lives in Sunnybrae with his wife Chelsea and his two children, Sebastian and Natalia, and a beagle named Bailey
Laura got involved in pottery when Grant and Marie were babies. She looking for something to do outside the home. The only evening she was able to take a class was Tuesday, and the only things available were cake decorating and pottery. Cake decorating seemed a little domestic, so she chose pottery.
There were 24 people in the class and 8 wheels, so each student got about 20 minutes on the wheel each week. Hardly enough time to practice centering let alone learning to throw. The rest of the time was spent handbuilding. She found it rather frustrating. 
One afternoon she saw an advertisement in the local paper offering potter's wheels for rent from a nearby pottery supply store. 
She decided to rent the wheel for a month to see if she had any talent.
They moved the furniture in the living room, laid down a big sheet of plastic and set up the wheel.  While she was cooking dinner that evening Bruce sat at the wheel and made a lovely bowl. 
That was the end of Laura's throwing career. 
For many years Laura used a slab roller and plaster molds to create platters and other serving dishes.
Now Laura spends her studio time glazing. She decorates some of Bruce's work and some of Grant's.
Mud Sweat and Tears Studio is situated in Blind Bay on the shores of Shuswap Lake, British Columbia Canada.
In 1981 Bruce and Laura returned to Bruce's native Canada from New Zealand. 
They lived in Kamloops for two years then moved to the Shuswap, opening the Squilax Craft Post, on the old Squilax General Store. In 1986 they bought a house in Blind Bay, and set up their studio.
In 2009 Grant became part of Mud Sweat and Tears.
Bruce and Grant go through over 12 tons of clay a year. They use both stoneware and porcelain to produce functional. sculptural and one of a kind pieces.
Mud Sweat and Tears has an annual contract to make 4000 honey pots for Nicola Valley Apriary, in Merritt